xTablet T1550 and T1150 - The Ultimate Rugged Tablets
Do you find yourself spending a great deal of time recording data at a desktop computer? Are you tired of messing with paper that you can't read to record data?
Is your desktop computer getting old and needs replacing? The answer to all of these questions can be found with one of our tablet computers. The ideal computer for agricultural use!
The xTablet Rugged Tablet PC is powerful and rugged enough to survive even the rough handling of agricultural use. The xTablet allows you to achieve your data collection objectives and become more efficient and effective with your time management.
T1550
When you put an xTablet and Microsoft® Windows® technology at the center of your mobile business strategy, a new era of possibilities begins - one where employees are empowered with devices they love, productivity is effortless, and innovation happens in the moment. The durable and innovative xTablet T1550 enables mobile workforce productivity like never before.
With Windows 10 professional, multi-tasking means multi-doing. Enable workers to do more work in less time, securely and efficiently.
For easy carrying, the device comes standard with a briefcase handle and back hand strap.
IP65 sealed from water and dust, and will survive 4' drops (MIL-STD 810G).
Next-generation productivity via custom apps and software or standard desktop applications like Microsoft Office® (not included).
Have a need for a high-performance barcode scanner? Look no further, with the optional 2D integrated barcode scanner.
Work longer without having to charge the device. The xTablet T1550 comes standard with a 6-8 hour battery.
Wireless 802.11 a/b/g/n/ac and Bluetooth 4.0 come standard on the xTablet T1550.
T1150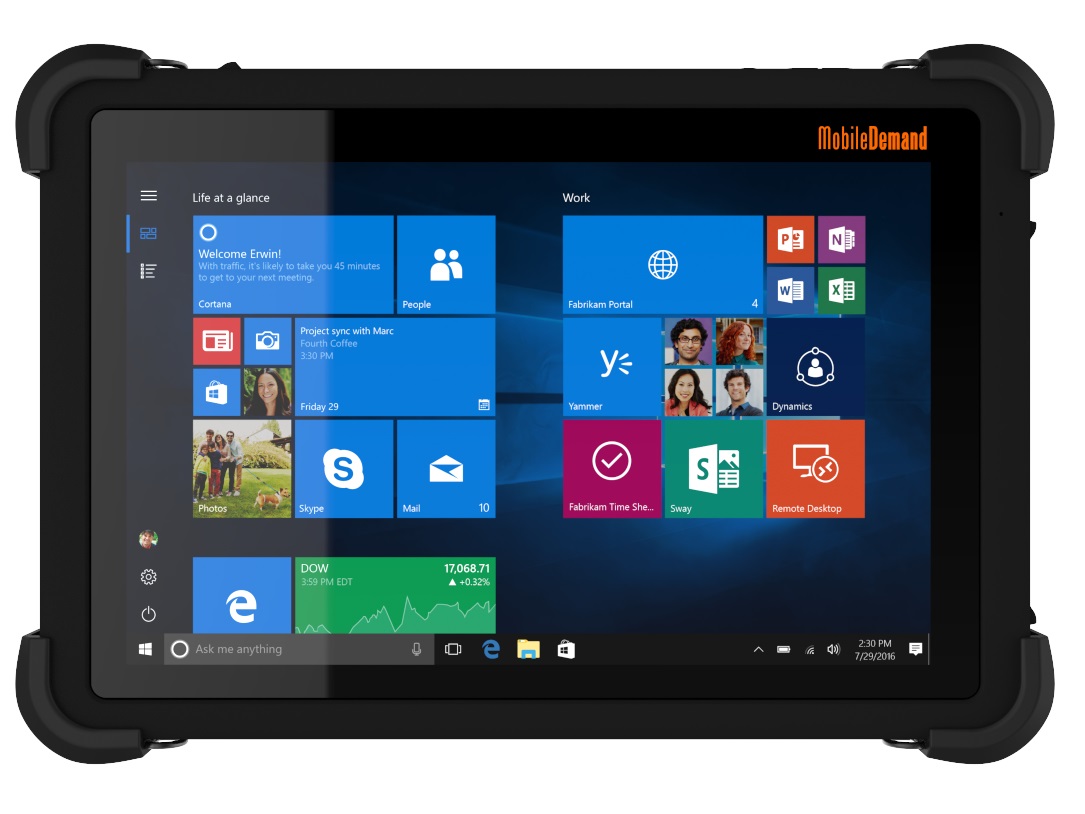 The xTablet T1150 is sunlight viewable, IP65 sealed and passed MIL-STD 810G which means the tablet is protected from water, dirt or dust. This rugged tablet comes standard with an eight-to-10 hour hot swapple battery, 4GB of RAM, 64GB of storage, Intel® Atom Quad Core X5 processor, and Windows 10 Professional OS. It is backed by the MobileDemand 3-year warranty. Like we said, rugged innovation for the mobile workforce. Integration upgrades for the T1150 include: 2D imager/barcode scanner 4G LTE capable, carrier restrictions apply NFC Fingerprint reader (Windows Hello compatible) 3D camera (coming soon) Optional accessories include: Vehicle Dock/Forklift Mount Office Dock Snap Mount Rail Direct Wiring Multiple Battery Charger Magnetic Stripe Reader (MSR) Extra Batteries (8 hour) Stylus

More information is available at our partner's webiste Mobile Demand.
Software - RationPRO, HeiferPRO and DairyQuest will all run perfectly on the Tablet PC.  It is an ideal tool to capture data as events occur.
Accessories - We offer a wide assortment of accessories to allow customization of a rugged tablet to meet your needs  Accessories include vehicle mounting systems, auto adaptor, shoulder straps, etc.
Please contact ProfitSource for customizing and pricing options. 888-597-2977.